A meeting of the NBAU administration at the Embassy of Ukraine in Germany took place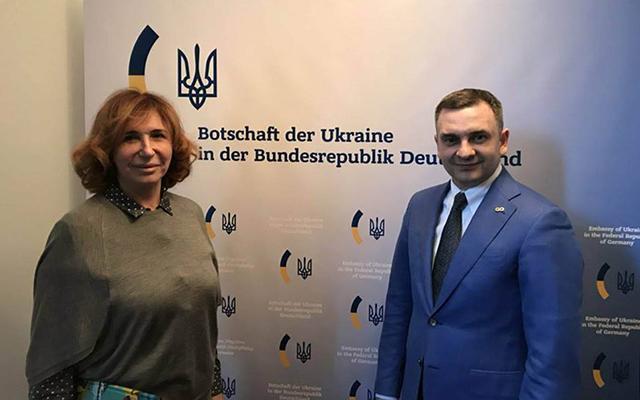 On April 5, NBAU and BCU Chairman, Lidia Izovitova and Vice-Chairman of NBAU and BCU Valentin Gvozdii met with the heads of the Embassy of Ukraine in Germany.
The talks were devoted to the advocacy activity in Ukraine, the contribution of advocacy to the establishment of the principles of rule of law, the formation of a legal democratic state. The talks were also about the history of the Ukrainian legal profession, which in certain periods forms a significant part of the European history of the becoming of the profession.
The heads of NBAU familiarized the Ukrainian diplomats with the work of the NBAU representative body in Germany (established in Berlin by the decision of the BCU adopted on December 15, 2017). In this context, preliminary plans for cooperation in organizing activities for German business, as well as work with citizens of Ukraine and Germany who are in need of legal assistance were discussed..
A series of books on the history of the Ukrainian Bar published by the Center for Advocacy and Law Studies at the NBAU were handed over as a gift to the embassy..
Popular news