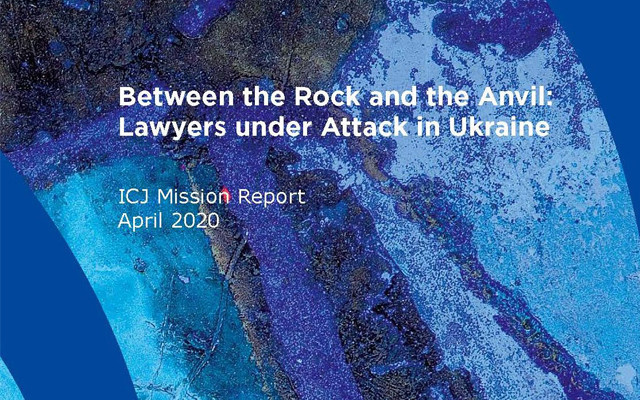 The reform of 2012 created challenges for the profession, though subsequent events have shaped its institutional independence which has crystallized in its active support of lawyers under threat.
This is stated in particular in the report of the International Commission of Jurists (ICJ) called «Between the Rock and the Anvil: Lawyers under Attack in Ukraine» issued following ICJ one-week mission to Ukraine from 4 to 8 March 2019 to assess the situation of security and independence of lawyers.
The report states that prior to the 2012 reform, membership in the Bar Association was not mandatory and there was no single structure governing all practicing lawyers, i.e. a National Bar Association. In 2012, the new law "On the Bar and Legal Practice" (currently in force) was adopted 59 The law launched a reform of the legal profession aiming to establish a national Bar Association with mandatory membership 60 The European Commission for Democracy through Law (the Venice Commission) of the Council of Europe published an opinion on the draft law concluding that "[t]he draft Law [was] coherent and provide[d] a good basis for regulating the profession of the advocate".
The ICJ stressed that it was the National Bar Association of Ukraine that ensured the independence of the bar not only at the legislative level, but also in practice, going through a period of instability.
«This independence constitutes an important achievement which should not be underestimated or taken for granted. The independence of the the profession is a bedrock for the independence of the justice system which cannot function effectively without independent lawyers", - the report said.
At the same time, the ICJ recommended changes to be made in Ukraine and noted that UNBA, as well as individual lawyers, should be involved at every stage of drafting legislation on its operation, in particular those relating to the bar and the Bar Association itself.
"UNBA should participate in public discussions on issues related to legislation, the functioning of the justice system, and the promotion and protection of human rights through the justice system. The Bar Association should also be involved in consultations on other legislative procedures that may affect the rights and independent status of the bar," - the report said.
It will be recalled that this was repeatedly emphasized by UNBA President Lidiia Izovitova when the Verkhovna Rada was adopting the draft law № 1013 on the abolition of the advocate's monopoly. However, the position of UNBA was not taken into account - the document was preliminarily approved in January 2020.
The ICJ was established in 1952 and operates on five continents. Its purpose is to ensure the progressive development and effective application of international human rights law and international humanitarian law; ensuring the realization of civil, cultural, economic, political and social rights; protection of the separation of powers; and guaranteeing the independence of the judiciary and the legal profession