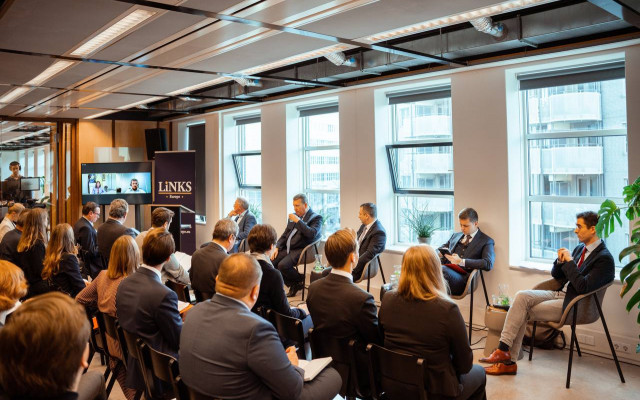 The successful development of the National Bar Association of Ukraine is the result of effective teamwork and non-interference in political processes.
This was stated by UNBA Vice-President Valentyn Gvozdiy during the conference "EU and Eastern Neighborhood" at the Hague (Netherlands), organized by LINKS Europe in cooperation with the Hague City Council and with the support of The Hague Humanity Hub.
"Ms. Lidiya Izovitova, as the UNBA President, was able to create a team that includes all generations. This is the key to our success - the involvement of all generations. We can be strong only when we work as a team," he said.
Valentyn Gvozdiy emphasized that the main role of advocates is to protect the citizens of Ukraine, clients, and business. And given that opponents of advocates are often public authorities, the bar cannot afford to interfere in political processes in any way so as not to create vulnerabilities.
"We are not a political institution, we are always outside the political process, because it is a guarantee of our independence," he said.
According to him, for 9 years of work and absorption of international experience, the Ukrainian National Bar Association has demonstrated that in Ukraine can be created powerful institutions in the justice system that will promote the rule of law.
"I believe that the rule of law in Ukraine is on the right track. And the current situation is not as bad as one might think. Of course, we still have work to do. We communicate with partners from all countries of the Eastern Partnership and other neighboring countries and I can assure you - in Ukraine the situation in this direction is quite good, "- said UNBA Vice-President.
In a podcast for LINKS Europe, Valentyn Gvozdiy added that UNBA already has experience that it can share with European colleagues, both in terms of institutional development experience and in terms of practical solutions for advocates.
"We were created from scratch, our organization is only 9 years old and we have the opportunity to do everything in a very modern way. While our European colleagues are in a sense bound by their traditions. They cannot change many processes, such as the ongoing training of advocates. We, in turn, have developed a modern platform and are already doing everything online and sharing our experience in this direction with European colleagues, "he said.
He stressed that, in the future, UNBA would like to become more involved in the work of international organizations of advocates, in particular, CCBE and have more rights in the organization, including the right to vote.
"The CCBE represents the legal profession before the Council of Europe. Ukraine is a member of the Council of Europe. And it is very strange when we, as representatives of the European legal profession, cannot vote in this organization, "said UNBA Vice-President.