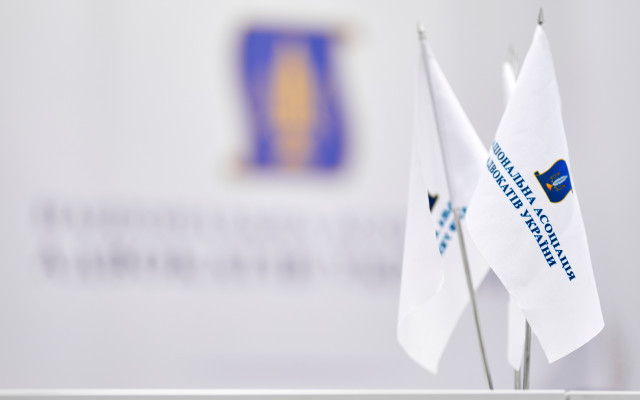 With the beginning of the aggression of Russian Federation troops against Ukraine, the legal profession experienced one of the most difficult crises in recent history.
Thus, the UNBA/BCU President Lidiya Izovitova described the situation in the legal profession to participants of the online seminar organized by the European Bars Federation.
The event dedicated to the support of Ukrainian refugees, displaced persons, advocates and UNBA itself as a self-governing organization by international legal community.
The UNBA/BCU President drew attention to the fact that currently Ukrainian advocates are left with almost zero earnings, because judicial representation is one of the main types of legal practice in Ukraine. It is now halted due to the evacuation of courts, the inability to attend court hearings, and the lack of access to the Unified Register of Court Decisions, thus earning is now extremely difficult.
Lidiya Izovitova stressed, that advocates that were forced to go abroad also lost their jobs in Ukraine. She noted the extraordinary role of a number of foreign advocates that developed online platforms offering employment to advocates or free office space. However, due to peculiarities of European legislation and language requirements, only a select few will be able to practice law in the countries where they are currently located. That is why Lidiya Izovitova called on her European colleagues to give Ukrainian advocates the opportunity to study for free.
"We understand that only a handful of advocates that know the language and European law can be provided with employment. Had there been such an opportunity, for example, through grants or other means, to open courses for our advocates, opportunities for master's studies for young advocates, so that they may have learned the law of European countries. And when we become full members of the EU, our advocates would have the opportunity to practice. So far, we do not have such an opportunity. Many professional advocates went abroad, but they cannot practice," said Lidiya Izovitova.
UNBA/BCU President once again thanked all those who supported Ukrainian advocates in this grim time with charitable donations and other types of assistance.
According to Lidiya Izovitova, one of the greatest needs remains humanitarian and financial support for advocate and families that lost their homes and property as a result of bombings and remain in Ukraine as internally displaced persons.
"You can imagine how one feels now, for example, our colleague and her daughter, which fled from a bombed city. They hid in the bathroom, and when they came out - their apartment was gone. They fled without anything: no belongings, documents, or money. They were sheltered, given clothes and food. But now summer is coming, they have nothing to wear, no means to leave on their own. And we have a lot of advocates in similar situations, "said Lidiya Izovitova.
The UNBA Board of Trustees distributes charitable assistance from foreign partners, which already donated more than 6 million hryvnias to help advocates from the regions most affected by the military aggression.