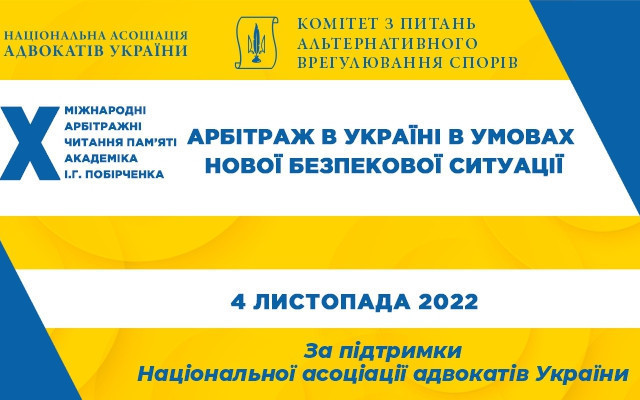 As part of the activities of the Committee on Alternative Dispute Resolution, the UNBA informs the legal community about the ІХ International Arbitration readings in memory of Academician Igor Pobirchenko 2022 on the topic "Arbitration in ukraine in the newfangled security landscape".
Organizer of the event: ICAC under the Ukrainian Chamber of Commerce and Industry
Date and time: November 4, 2022, 11:00 a.m. - 1:00 p.m
Event format: hybrid (online + offline)
Cost: free of charge
Language of the event: Ukrainian
Issues for discussion:
- Sanctions Policy of Ukraine.
- The practical side of sanctions: how the best interests of export-import oriented businesses are impacted.
- Personal sanctions: the practice of the Supreme Court of Ukraine.
- Legal front: the functioning of arbitration at wartime.
- Expanding the range of the ICAC services. The prospects of the ICAC to serve as a venue for resolving disputes over the compensation of damages caused by the russian aggression as well as during the time of Ukraine's restoration and future sustainable development.
Learn more and register on the event website: https://readings.icac.org.ua/