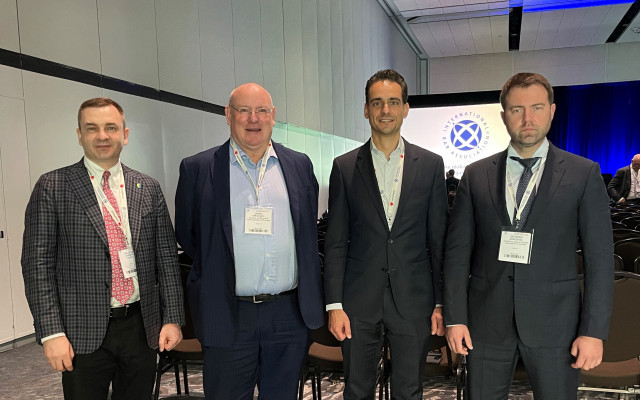 November 01, 2022, UNBA Vice President Valentyn Gvozdiy held a working meeting with the President of the Council of Bar and Legal Societies of Europe (CCBE), James MacGill, and the head of the organization's secretariat Simone Cuomo during the annual conference of the International Bar Association (IBA) in Miami (USA)
The Chairman of the Parliamentary Committee on Law Enforcement, Ukrainian MP Sergii Ionushas, ​​also took part in the meeting, emphasizing the exceptional importance of the work of the Verkhovna Rada of Ukraine in the field of European integration.
As you know, with our country receiving the status of a candidate for membership in the European Union, the Ukrainian National Bar received the opportunity to raise its status in the CCBE from an observer member to associate member status. This opens up new possibilities and access to more information regarding regulating the legal profession.
Integrating such an important institution as the Institute of Advocacy into the European Legal Community is essential for Ukraine. Building a solid institution to protect Ukraine's human rights is a prerequisite for strengthening the rule of law. This is the condition the EU has set for Ukraine to grant membership.
The Ukrainian National Bar Association cooperates with European colleagues almost daily, informing them about the current state of the legal system in the country and the challenges facing the legal profession during the war.
It will be recalled that the CCBE provided significant charitable assistance to Ukrainian lawyers affected by the war and, having developed with UNBA, adopted the necessary recommendations to facilitate the access of Ukrainian advocates to the market of legal services in European countries.
Founded in 1960, the Council of Bars and Law Societies of Europe (CCBE) is an international non-profit association that, since its inception, has been at the forefront of promoting the views of European lawyers and protecting the legal principles on which democracy and the rule of law are based.