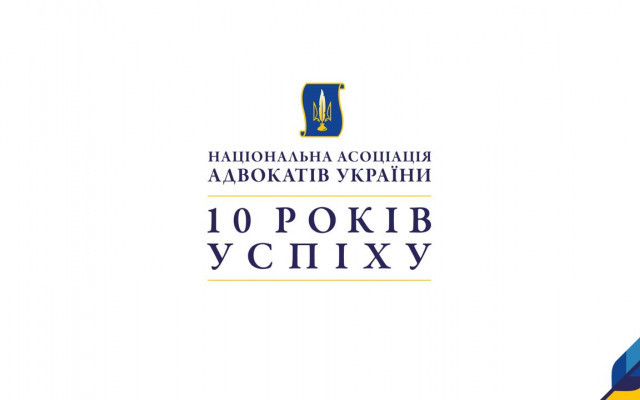 Dear Fellows Ukrainian Advocates!

On November 17, 2022, the Ukrainian National Bar Association - the only professional organization of advocates in Ukraine- celebrates its 10th anniversary.

Over the years, we have built a robust, consolidated, and truly functioning self-governing institution, which has united more than 65,000 lawyers.

We worthily overcome the challenges facing our organization - ensuring the continuity and stability of the activities of the legal self-government bodies, not betraying the legal profession's principles, and establishing its authority and prestige in Ukraine and beyond.

Assistance to the injured and families of advocates killed during military operations, lawyers who have lost their homes, displaced persons, and refugees is one of the pages of persistent activity of the UNBA.

The history of the current development of the constitutional institute of advocacy has already become the history of our success in building an independent Ukraine. We owe this success to the consolidated position of each of you.

On the 10th anniversary of the creation of the Ukrainian National Bar Association, I sincerely wish you all constant professional growth, achievement of set goals, and ambitious plans.

Sincerely,

President of the Ukrainian National Bar Association and Bar Council of Ukraine

Lidia Izovitova
© 2023 Unba.org.ua Всі права захищені
"Національна Асоціація Адвокатів України". Передрук та інше використання матеріалів, що розміщені на даному веб-сайті дозволяється за умови посилання на джерело. Інтернет-видання та засоби масової інформації можуть використовувати матеріали сайту, розміщувати відео з офіційного веб-сайту Національної Асоціації Адвокатів України на власних веб-сторінках, за умови гіперпосилання на офіційний веб-сайт Національної Асоціації Адвокатів України. Заборонено передрук та використання матеріалів, у яких міститься посилання на інші інтернет-видання та засоби масової інформації. Матеріали позначені міткою "Реклама", публікуються на правах реклами.