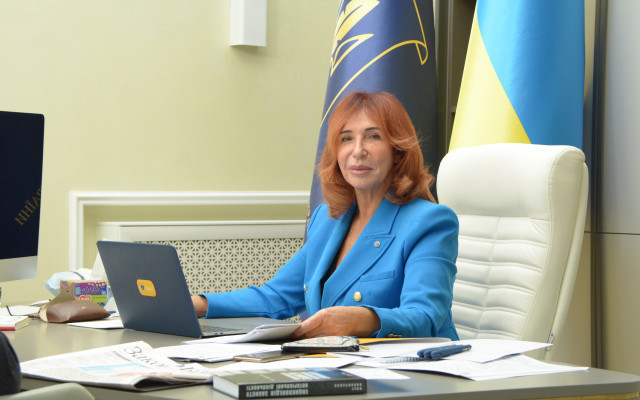 On April 12, 2023, a successful online meeting was held between the leadership of the Ukrainian National Bar Association and the Bar Council of the Republic of Lithuania.
Lidiya Izovitova, the UNBA President, met with Mindaugas Kukaitis, the President of the Bar Council of the Republic of Lithuania, and members of the Council.
During her speech, Lidiya Izovitova spoke about the activities of Ukrainian advocates in the context of the russian military aggression against Ukraine. She focused on the role of the Bar in ensuring the rule of law during martial law. UNBA President described in detail the gross violations committed by law enforcement agencies against lawyers, attempts to put pressure on the self-governing institution, and the attack on the independence of the Ukrainian Bar. She also reviewed the measures taken by the UNBA to overcome these dangerous phenomena.
The leaders of the bar associations of both countries discussed the prospects of cooperation and further support of Ukrainian lawyers affected by the military actions in Ukraine. Lidiya Izovitova noted the experience of long-term cooperation with the Lithuanian Bar and thanked for the assistance provided by the Lithuanian Bar community from the first days of military aggression against Ukraine.
It is worth noting that the Lithuanian Bar was one of the first to organize a fundraiser and donate over 37 thousand euros to Ukraine for the army's needs. Lithuanian lawyers also launched free legal aid to Ukrainians staying in Lithuania and assisted in resetting Ukrainian citizens who were forced to stay in Lithuania.
This meeting emphasized the importance of cooperation between the Ukrainian and Lithuanian bar associations and joint efforts in fighting for the rule of law and protecting human rights in the context of military aggression.
Both sides expressed their intention to continue cooperation and mutual assistance, which is the basis for the further development of bilateral relations.
We look forward to the next meetings and further deepening cooperation between the Ukrainian National Bar Association and the Bar Council of the Republic of Lithuania, which will help protect the interests of lawyers and clients of both countries.