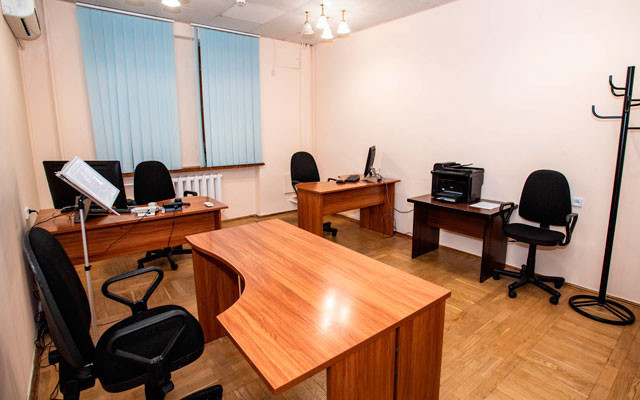 The relevant information was published by the press service of the Supreme Court on November 14.
Judging by the posted photos, the room for the participants in the trial is an «open space» with three desks, two of which are equipped with computers (reportedly with Internet access). There is also one printer in the room. All of this is offered to participants in the proceedings for use.
While welcoming the desire of the highest court to create comfortable conditions for the participants of the proceedings in court, we should take into account two circumstances, - commented Bohdan Kushnir, Chairman of the UNBA Committee on Legal Practice. «First, in criminal cases, the participants of the hearings are representatives of the prosecution (investigators, prosecutors, victims' lawyers) and representatives of the defense (defendants' lawyers). Their interests are diametrically opposed. In practice, will procedural opponents be able to work together in the same office and use common office equipment? This is a rhetorical question. Secondly, the number of equipped workplaces in the court. And not just in court, but in the highest court! If you look at the information posted on the website of the CCU itself, you will find that, for example, 31 cases were scheduled for consideration today. At the same time, eight of them are for a single hearing. And even if we take into account that not all representatives participate in the meetings of the cassation instance, who will distribute the available three workplaces and how?».
As a reminder, the issue of arrangement of workplaces for attorneys was discussed on August 12 this year at a meeting of the Bar Council of Ukraine in Uzhhorod.
© 2023 Unba.org.ua Всі права захищені
"Національна Асоціація Адвокатів України". Передрук та інше використання матеріалів, що розміщені на даному веб-сайті дозволяється за умови посилання на джерело. Інтернет-видання та засоби масової інформації можуть використовувати матеріали сайту, розміщувати відео з офіційного веб-сайту Національної Асоціації Адвокатів України на власних веб-сторінках, за умови гіперпосилання на офіційний веб-сайт Національної Асоціації Адвокатів України. Заборонено передрук та використання матеріалів, у яких міститься посилання на інші інтернет-видання та засоби масової інформації. Матеріали позначені міткою "Реклама", публікуються на правах реклами.