UNBA representatives visited Spain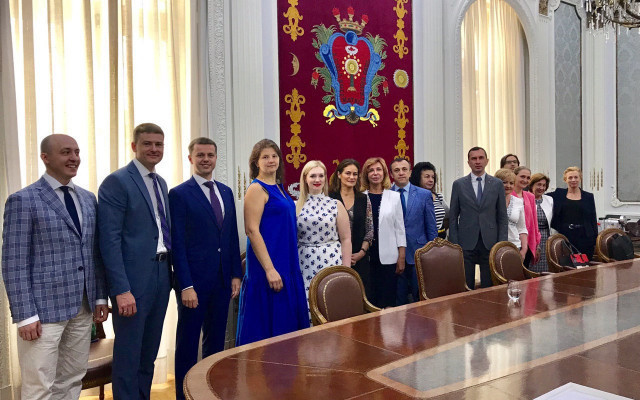 On June 11-13, the UNBA delegation, headed by the head of UNBA, BCU Lidia Izovitova, was in Spain with an introductory visit.
During the visit, the Head of UNBA, BCU Lidia Izovitova had the chance to reach a fundamental agreement on further cooperation over a personal meeting with the Head of the Spanish Bar Association Victoria Ortega Benito. Also, the Ukrainian delegation met with representatives of the Spanish Bar and Bar Council of Madrid: familiarized with the organization of their work, discussed a number of relevant issues of institutional interaction with Ukrainian lawyers. Particularly interesting aspect of such cooperation is the provision of free legal aid: Spanish model has convincing advantages and deserves further research in order to study the implementation of some of its components in Ukraine. The topic of the legal aid was central during a meeting of the UNBA delegation with the Ministry of Justice of Spain.
The UNBA delegation also held a meeting in the Supreme Court, which is currently considering cases involving participants in the conflict around Catalonia. In this context, the experience of the interaction of advocates and law enforcement agencies in resonant cases was discussed, and it was emphasized that the priority of law is unconditional.
Ukrainian advocates also had an excursion to the Parliament of the Kingdom of Spain.
The delegation included the Head of the Committee on International Relations Ivan Grechkivskii and his deputy Vitalii Vlasiuk, Head of HQDBC Sergii Vylkov, heads of regional bar councils Sergiy Udovychenko, Viktoria Gaivoronska, Galyna Rudenko, Tetiana Leshchenko, Galyna Yakuba and Head of the UNBA Secretariat Vadym Krasnyk.
Head of UNBA, BCU Lidia Izovitova noted the effective efforts of the Head of the UNBA's foreign office in Spain Lilia Mykolayiv and the UNBA Committee on International Relations to organize this visit and its program content, and also expressed gratitude to the Ministry of Foreign Affairs of Ukraine and the Embassy of Ukraine in Spain for the support of the visit of Ukrainian delegation.
We remind that UNBA continues to develop a network of foreign offices to help Ukrainians living or staying in other countries, as well as promoting foreign investment. In November 2018 UNBA signed corresponding Memorandum on Cooperation with the Ministry of Foreign Affairs of Ukraine.
Popular news