Valentyn Gvozdiy and Serhiy Barbashin took part in an international discussion on threats to the rule of law in Eastern and Central Europe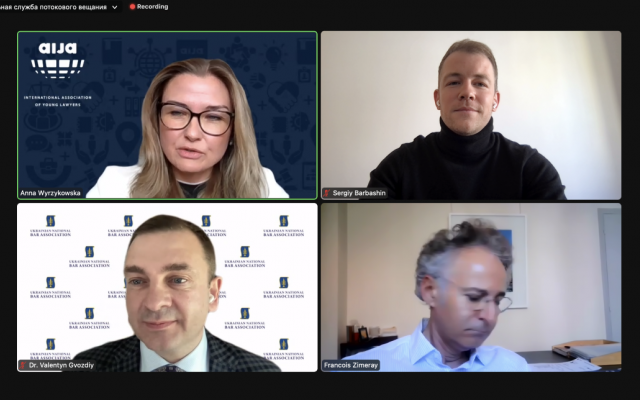 UNBA/BCU Vice-President Valentyn Gvozdiy and UNBA NextGen Youth Committee Chair Serhiy Barbashin took part in the international Rule of Law Webathon.
At the panel discussion "Attacks to the Rule of Law in Central and Eastern Europe," UNBA representatives spoke about the rule of law in Ukraine during martial law, reviewed the changes to criminal procedure. In particular, they drew attention to the operation of courts during the war time and the issues of territorial jurisdiction, amendments to the Criminal Code of Ukraine.
Valentyn Gvozdiy emphasized that Ukrainian National Bar Association actively monitors any legislative changes, provides necessary recommendations, clarifications, and objections to draft laws in order to avoid human rights violations or restrictions on procedural representation.
Rule of Law Webathon is the second annual event organized by a number of international organizations, including: AIJA Human Rights Committee, UIA, ABA International Law Section, Law Society of England & Wales, and Inter-American Bar Association.
International partners support Ukrainian National Bar Association condemning violation of human rights and military aggression of the Russian Federation against Ukraine.
Popular news