UNBA is holding an international conference in Kiev in cooperation with the European Young Bar Association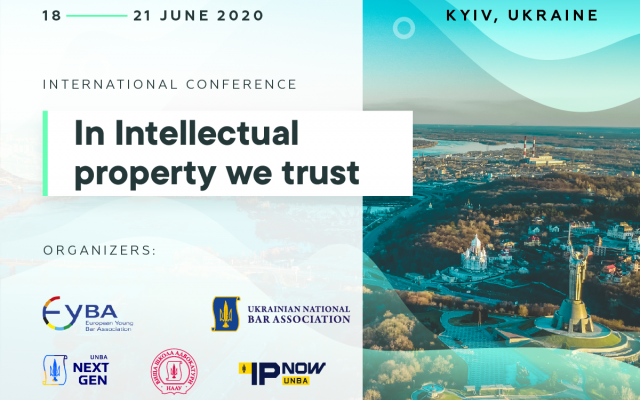 The Ukrainian National Bar Association (https://unba.org.ua/) was granted the right to hold an international conference of the European Young Bar Association (https://eyba.org/) in Kiev.
The conference is held annually and is a major EYBA event. This has not happened in Ukraine before and we are glad that our European colleagues have entrusted us with this event.
Responsible for the conference - the UNBA NextGen (https://www.facebook.com/unbanextgen/) and the UNBA Committee on Intellectual Property.
Dates of the conference: 18-21 June 2020.
The main topic of the conference will be "In Intellectual property we trust".
Just imagine, June 18-21, lawyers from all over the world will come to Kyiv. There are more than 20 participating countries, including England, the United States, France, Italy, Spain, Belgium, Germany, Poland, Iceland, etc., and more than 200 000 EYBA members.
The educational part is dedicated to pressing issues regarding the development of Intellectual Property Law.
«Intellectual property law is evolving with geometric progression. Just how many new challenges the field has received lately: protection and registration of computer programs, blockchain technologies, works of artificial intelligence and more. We have something to discuss with colleagues from other countries, and this conference is a great platform for this» – Serhii Barbashyn, Head of the UNBA NextGen, Deputy Head of the UNBA Committee on Intellectual Property.
«The field of intellectual property will be restarted in the near future: a National Intellectual Property Authority, a specialized court is being created, and a post-grant oppositions institute is being introduced. At this time, it is especially important for us to communicate with our international colleagues and share our experiences! Our event will become a unique communication platform for representatives of the ip-sphere and all interested» – Mykola Pototskyy, Head of the UNBA Committee on Intellectual Property.
According to the tradition of the European young bar association, a grand party will take place on the last day of the conference, June 20. But this year's party will combine both the Gala dinner of the conference and the UNBA NextGen Summer Gathering, dedicated to the results of the third year of committee activity.
As of today, the topics of the reports are being approved and negotiations are being held with potential partners of the event. Partners of the event can be law firms and media, publications and other organizations.
Keep up with the news. Registration will open soon!
On terms and conditions of the partnership, please contact Alina Cheremys.
tel: +38 (093) 933-25-48
e-mail: a.cheremys@unba.org.ua
Popular news