Judicial reform demonstrates discordance with constitutional principles and violation of state sovereignty - Maryna Stavniychuk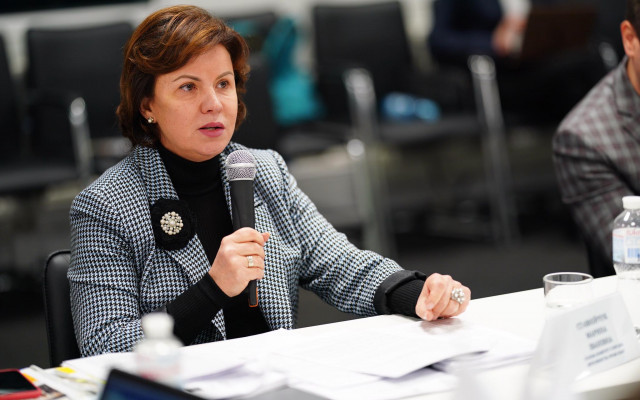 Judicial reform in Ukraine has been going on for 30 years, but the latest stages show the differences between the relevant legislation on the judiciary and the constitutional basis. Besides, some ideas run counter to state sovereignty.
This was stated during the second national discussion "Access to Justice: Realities and Prospects" by the Head of the Committee on the Rule of Law of the UNBA Maryna Stavniychuk.
The former member of the Venice Commission, Maryna Stavniychuk singled out several systemic problems that make it impossible to build a stable and efficient justice system. Thus, first, the positive result of the changes is hindered by the absence of trust of the participants in the reform and the distrust of citizens to public authorities and the judiciary. "We see the efforts of current politicians to transfer the problem of their authority and their perception of the people exclusively to the judiciary. This is a tendency of distrust, " - Maryna Stavniychuk stressed.
Judicial reform is developed without a defined strategy, criteria, goals, and objectives. Each new stage begins without evaluating the results of previous changes. The duration of each stage becomes shorter, which leads to instability of legislation. An example of the lack of an analytical approach is the termination of the powers of the High Qualification Commission of Judges of Ukraine in November 2019 without a proper evaluation of its activities. The failures of judicial reform are also explained by the fact that the proposed changes are not provided by calculations of human and budgetary resources.
"We see differences between the current legislation and the constitutional principles. Proposals are formed from the ceiling, little attention is paid to the provisions of the Constitution, which in terms of the judiciary was reformed only in 2016. In reality, only 4 years have passed, and new proposals are already being made without an analysis of how the implemented changes work,"- said Maryna Stavniychuk.
According to her, the last stage of judicial reform had political goals and was accompanied by a violation of the constitutional procedure for amending the Constitution in the chapter on ​​justice.
It will be recalled that the second national discussion "Access to Justice: Realities and Prospects" took place on November 30. The co-organizers of the event were UNBA and the High Council of Justice. The agenda of the discussion included strategic issues of judicial reform, the role of professional communities in the development of legislation on the judiciary and the bar, the constitutional aspects of the participation of international experts in the formation of judicial governance.
Popular news