Report of UNBA Free Legal Aid Committee on current issues of the functioning of the free legal aid system in Ukraine 2022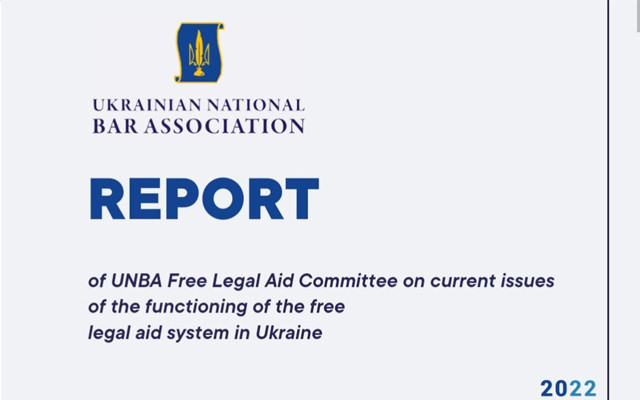 In 2022, the UNBA Committee for Free Legal Aid held five meetings. The working meetings of the Committee were devoted to discussing the problems of legislative regulation of the system of free legal aid in Ukraine. In particular, in May, the Committee's position on the monitoring of legislation in the field of providing free legal aid was sent to the Ministry of Justice. Also, in 2022, members of the Committee analyzed draft laws on amendments to some legislative acts on simplifying access to free legal aid (registration no. 7473-1, 7473-D). Based on the study's results, UNBA sent appropriate comments to the Verkhovna Rada of Ukraine (Parliament of Ukraine).
The Committee prepared a Special Report on current issues regarding the Functioning of the Free Legal Aid System in Ukraine, which is a detailed analysis of numerous problems with the implementation of free legal aid in Ukraine, including: systematic attempts to interfere in the sphere of independence of the legal profession, the presence of a significant number of corruption risks in the BPD system and its unjustified expansion, removal of the legal profession from the process of decision-making concerning lawyers, the introduction of a system of state management of lawyers, interference in the legal profession, etc.
Перегляд файлу: Report of UNBA Free Legal Aid Committee
Popular news