Status of a foreign lawyer in the Czech Republic: Prospects for obtaining it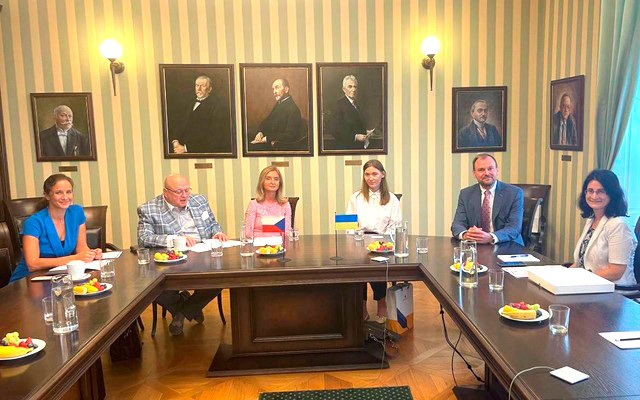 For those Ukrainian lawyers who left for the EU because of the war and continue to practice, it is of particular importance to obtain the status of a foreign lawyer in the host country. At the very least, it is a matter of ensuring the preservation of the attorney-client privilege.
Olena Maksymenko, the UNBA representative in the Czech Republic, spoke about the prospects of obtaining the relevant status for Ukrainian lawyers in the Czech Republic during a meeting with the leadership of the Czech Bar Association (Česká advokátní komora, ČAK): President Robert Nemec and Vice Presidents Monika Novotna and Martin Meissner.
In particular, foreign colleagues were very interested in the possibility of Ukrainian lawyers to continue their work online from anywhere in the world.
Therefore, the UNBA representative spoke about the possibilities of signing and submitting electronic documents, showed the applications that have already become an integral part of the legal profession in Ukraine (Electronic Court, Diia), demonstrated the nuances of work on the examples of submitting a power of attorney for representation to the court, an agreement for the provision of legal services, and promised to prepare an article for Czech lawyers on Ukraine's experience in the digitalisation of legal proceedings, which will be published in the ČAK newsletter.
At the same time, representation of clients' interests is inextricably linked to compliance with the guarantees of activity, in particular, the preservation of attorney-client privilege. To do so, one must have the appropriate status in the host country.
To help Ukrainians in this matter, O. Maksymenko suggested developing a basic seminar for lawyers that would explain in detail the requirements for them as foreign lawyers, as well as the specifics of preparing for the qualification exam. The possibility of conducting such an exam in Ukrainian was also discussed. The ČAK emphasised that such a proposal could be implemented through the approval of the Ministry of Justice of the Czech Republic.
It should be reminded that the Czech Bar provided the largest amount of assistance (€80 thousand) and was the first among all international donors and partners of the UNBA to do so.
For reference: useful information for persons in need of temporary protection in the Czech Republic is available on the website of the Czech Chamber of Advocates at the link.
Popular news