UNBA Vice President Valentyn Gvozdiy spoke at the meeting of the CCBE in Brussels: focus on attacks on the Bar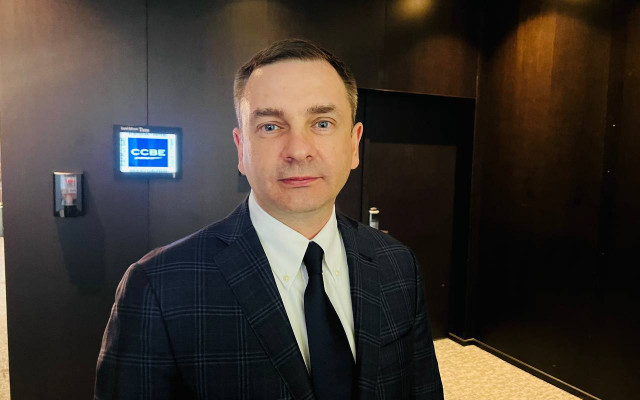 On March 31, 2023, Valentyn Gvozdiy, Vice President of the Ukrainian National Bar Association (UNBA), took part in the work of the Standing Committee of the Council of Bars and Law Societies of Europe (CCBE) in Brussels.
During his speech, Valentyn Gvozdiy reported on the current state of affairs in the Ukrainian Bar, focusing on the current problem of attacks on the UNBA related to massive hostile propaganda. He spoke about the importance of lawyers in ensuring the rule of law and the UNBA's activities. He analyzed current efforts and potential strategies to strengthen the judiciary, increase transparency and fight corruption.
The UNBA Vice-President also expressed his opinion on the issues raised at the CCBE meeting, particularly on protecting lawyers in international cooperation. Valentyn Gvozdiy emphasized the importance of international support and cooperation to counter attacks on the bar and protect the rights of citizens.
The CCBE meeting discussed many topical issues, including sanctions, migration, taxation, and human rights protection. Valentyn Gvozdiy actively participated in the discussions, presenting the UNBA's opinion on the advocates' activities and their societal role.
This speech of Valentyn Gvozdiy at the meeting of the CCBE demonstrates the UNBA's openness and activity in international cooperation and interaction with colleagues from different countries. Thanks to such participation, the Ukrainian Bar can express its positions and receive support and cooperation for developing and strengthening the Bar in Ukraine.
Recently, due to the fulfillment by Ukrainian advocates of their constitutional duty to protect all those in need, including war criminals and prisoners of war, the UNBA has become the target of harassment, hate speech, and hostile paid propaganda containing false information and aimed at discrediting the institution of the Bar in Ukraine. Such perpetrators' actions directly threaten the rule of law in Ukraine, especially during martial law. The Bar Council of Ukraine adopted a statement on the inadmissibility of pressure on the bar in any way and condemned the manipulative dissemination of paid-for materials.
Popular news