UNBA established the Center for Coordination of Volunteer Assistance to Advocates for Servicemen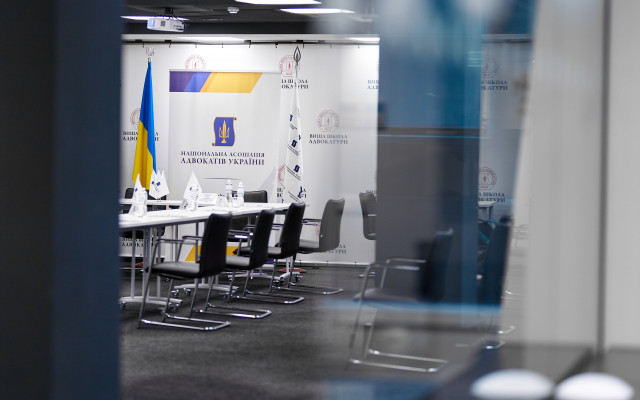 The Center for Coordination of Volunteer Assistance to Advocates Servicemen has been established under auspices of Ukrainian National Bar Association.
UNBA/BCU President Lidiya Izovitova announced it during an online meeting of the "Volunteer Movement of Advocates of the Armed Forces of Ukraine", where representatives of the Ministry of Justice, the Ministry of Digital Transformation, advocates, and NGOs were represented. The coordinator of the movement is the legal adviser to the Commander-in-Chief of the Armed Forces of Ukraine Yevhen Ryabeka.
UNBA was represented during this meeting by the Chairs of UNBA Committee on Military Law Maria Ostrovska and UNBA Committee on Independence of Justice Oleksiy Malovatsky.
Opening the event, Lidiya Izovitova reminded the guests about the main decisions of the Bar Council of Ukraine and UNBA's activity during martial law. In particular, the discussion touched upon the international efforts to raise funds to help Ukrainian advocates, the operations of the Board of Trustees and the work of regional Bar Councils coordinating humanitarian and legal assistance to internally displaced persons.
"We are making every effort to ensure continued operation of the Bar and regional Bar self-governance, in such difficult conditions. We must preserve the profession, its mission, and ensure the right to practice law for those who made their first steps to the legal profession.
Our mission is to preserve the values ​​of the rule of law even in times martial law, with all its peculiarities. In the same way, each of us is responsible for preserving the values ​​of the profession, which is an independent activity with several legal guarantees.
Manifestation of our professional mission is the development of advocates' volunteering project for the legal protection of servicemembers, " said Lidiya Izovitova.
The main task of the Center is informational, methodological, and other support of advocates that provide legal assistance pro bono to servicemembers in the framework of the volunteer movement.
In particular, the Center, together with UNBA Higher School of Advocacy will organize seminars, round tables, conferences, lectures on topical issues of legal aid to servicemembers, publish practical manuals on certain issues of legal aid rendered by volunteers. If a formal written clarification on law enforcement is required, the Center will contact the Bar Council of Ukraine with relevant draft proposals.
President of UNBA/BCU noted that during martial law the legislation is changing a lot, first of all the Criminal Procedure Code. Therefore, the UNBA HAS provides free training for advocates rendering legal assistance pro bono to servicemembers in the framework of a special program that takes into account the specifics of military service.
In addition, UNBA will introduce a number of tools to publicly identify the status of advocate involved in the volunteer project, which has already been decided by the BCU.
The newly established Center led by the Chair of the UNBA Military Law Committee Mariya Ostrovska.
Popular news