Lawyers are invited to the X International Arbitration Readings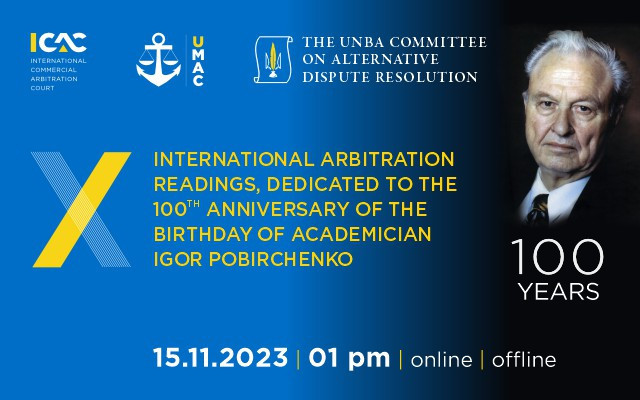 On November 15, 2023, the X International Arbitration Readings in memory of Academician Pobirchenko on «Wisdom Carried Through the Years» will be held.
The readings are organized by the International Commercial Arbitration Court at the Ukrainian Chamber of Commerce and Industry, the UNBA Committee on Alternative Dispute Resolution informs.
The readings will take place from 13.00 to 17.00 in a mixed format in Ukrainian with simultaneous translation into English.
Program:
Session I Selecting an arbitrator. Arbitrator credibility is key to arbitration efficiency.
The speakers will exchange practical tips on selecting an arbitrator, discuss the criteria referred to by arbitration institutions and define the key factors impacting the efficiency of a panel of arbitrators.
The Knight of Justice. Special report, dedicated to the 100th birthday anniversary of I.Pobirchenko.
Session ІІ. Chasing the trends: how international arbitration institutions apply their new editions of the Rules
The representatives of four international arbitration institutions will share the practice of the application of the new editions of their Rules, take the audience through the novelties that have been most positively received by users, and will offer a forecast on the future development of arbitration based on current trends.
The conference agenda is available here.
Participation in the conference IS FREE OF CHARGE for registered delegates. Registration is available here.
Popular news