Ways to protect the violated right in defamation disputes were discussed by the expert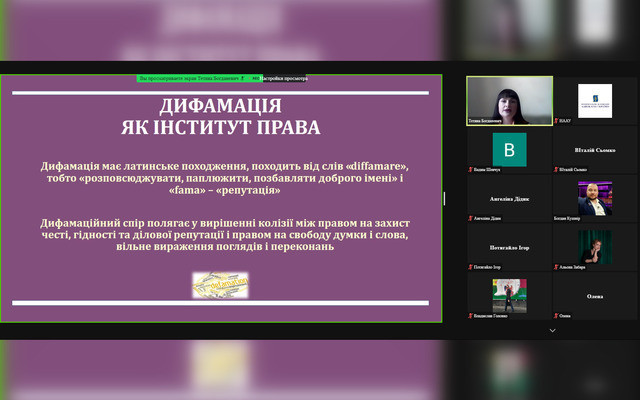 Today, everyone leaves their digital footprints in the online environment, exercising the right to freedom of thought and speech. However, when a person expresses his or her views and beliefs, it sometimes affects the honour, dignity and business reputation of others.
When can we talk about violation of personal non-property rights of a person, what are the main and special ways to protect them, - said the expert of the UNBA Committee on Legal Practice, Doctor of Philosophy in Law Tetiana Bogdanovych during the webinar «Defamation Disputes. Ways to protect the violated right».
She reminded that the general ways to protect non-property rights are:
- compensation for damages and other ways of compensation for property damage (clause 8, part 2, Article 16 of the Civil Code);
- compensation for non-pecuniary damage (Article 16(2)(9) of the Civil Code).
At the same time, monetary compensation for non-pecuniary damage caused by interference with non-property benefits is a key way to protect non-property rights (Article 280 of the Civil Code).
With regard to special methods, the following are distinguished: the right to reply, refutation of inaccurate information, establishment of the fact of inaccuracy of disseminated information and its refutation in a separate proceeding, prohibition of dissemination of information that violates personal non-property rights.
The speaker made a distinction between value judgements and statements of fact (factual data) in defamation disputes.
«Value judgements are the same as an opinion, a statement. It is a mental act that is evaluative in nature and expresses the attitude of the speaker to the content of the opinion expressed and is directly related to such psychological states as faith, confidence or doubt», the expert says. – «In turn, factual data is a logical construction and presentation of a certain fact or group of facts. A fact is a phenomenon of objective reality, specific life circumstances that occurred in a certain place and time under certain conditions. The fact itself is an objective category, independent of the opinions and views of outsiders, and its correspondence to reality can be verified and established by the court».
Thus, value judgements that do not contain factual data are not subject to refutation, the lecturer noted. This position is also reflected in the decision of the Supreme Court of 20.05.2019 in case No. 591/7099/16-ц.
The lecturer also cited other relevant court practice in cases of protection of honour, dignity, business reputation and decisions of the European Court of Human Rights in this category of cases.
Popular news